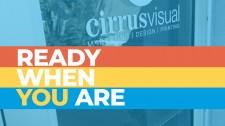 News
•
updated: Apr 29, 2020
As the community considers how to reopen their doors, your friends at Cirrus want you to know that we're here for you and ready to assist with your ever-evolving communication needs. How you conduct business is changing now more than ever, and it's important to keep your clients informed. Whether your need is immediate or you're planning for the future, we're here for you! (click here to continue reading)
As the community considers how to reopen their doors, your friends at Cirrus want you to know that we're here for you and ready to assist with your ever-evolving communication needs. How you conduct business is changing now more than ever, and it's important to keep your clients informed. Whether your need is immediate or you're planning for the future, we're here for you!
​See the Cirrus Visual Newsletter here
Signage and Graphics
It's no doubt that proper signage will play an important role when it comes to communicating new practices to clients and staff regarding COVID-19 and social distancing.
At Cirrus, the sky's the limit with customizable signage solutions to help meet your communication needs. Is your business changing hours and services, temporarily closed, or operating and looking for resources? We have you covered - from large posters and banners, floor and window decals, to outdoor graphics and more!
Virtual Communication Tools and Digital Assets
Social distancing has many of us adjusting to the "new norm" of virtual communication.
Whether you're planning an online event, meeting, webinar, or virtual conference, Cirrus can help you create professional virtual content with a strong visual appeal.
Our virtual communication tools will ensure your brand looks professional, and will give you the ability to communicate and collaborate effectively.
· Infographics
· E-guides and Publications
· Explainer Videos and Animations
​See the Cirrus Visual Newsletter here
Social Distancing Presents an Opportunity for Direct Mail Success
With more people spending time in their homes, now is a perfect time to reach your targeted audience with the power of direct mail printing services.
Direct mail is a great tool to let your existing clients know about changes to your business. It's also a great way to proactively engage with potential customers. From list sourcing and design, our expert team can help you create top-quality mail pieces that give you the best results.​
Share: