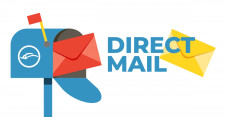 News
•
updated: Jan 26, 2021
As we prepare for better days in 2021, you may find your business challenged with communication strategies. Preparation and creative thinking are vital, and Cirrus Visual is here to help! Whether your plans are immediate, or you're planning big promotions for later this year, we've got ideas to share. We're committed to driving success for our clients, and can help you get back at it and grow better than ever.
Stay Connected with Direct Mail Services
In today's world, overrun with digital impressions, one thing stands out - people respond to something they can actually touch. With people spending more time in their homes, now is a perfect time to reach your targeted audience with the power of direct mail printing services.
We create top-quality mail pieces that give you the best results. We have a dedicated team who will contribute their expertise with great design, quality printing, and a compelling message that will ensure your mailer stands out from the rest. We take care of the entire process from design, list management, printing and fulfillment.
Check out our short video for tips on how to get the most from your next direct mail campaign in 5 easy steps!
Bring your project to life with our custom print finishing capabilities
Let us help you create a business card that's as unique as your brand!​
With our selection of paper options and custom finishes, we'll help you get the right look and feel for your next business card and make your first impression a great one. The options are endless! Enhancements like metallic foil, gloss laminate, UV or soft touch varnish, neon ink, white toner, spot clear and specialty paper are just a few of the things we can offer.
About Tucson's Cirrus Visual
Cirrus Visual specializes in Printing, Graphic Design and Promotional Products. We are committed to driving success for our clients as a single source for fast, affordable marketing solutions that deliver results. We measure our success by our ability to help our clients achieve their own.
We're never more than an email or phone call away to help solve your marketing communication challenges. From the initial concept through to delivery, you can rely on Cirrus to provide an unparalleled experience. We have a solution for you!
Cirrus Visual
601 N. Stone Ave
Tucson, AZ 85705
Share: