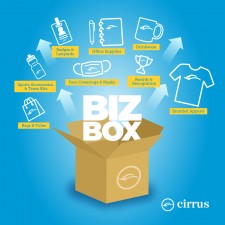 News
•
updated: Sep 8, 2020
The new normal may make it harder to connect, but you can still creatively get your brand or message in front of people you want to reach. Our Business in a Box concept is a unique solution to help you connect with any audience! •Stay in touch with your clients and prospects •Welcome back students and staff •Promote a new germ prevention program •Create the excitement of a trade show •Reach out to existing and potential donors •Launch a new product •Express gratitude
The new normal may make it harder to connect, but you can still creatively get your brand or message in front of people you want to reach. Our Business in a Box concept is a unique solution to help you connect with any audience!
•Stay in touch with your clients and prospects
•Welcome back students and staff
•Promote a new germ prevention program
•Create the excitement of a trade show
•Reach out to existing and potential donors
•Launch a new product
•Express gratitude
The possibilities for what can go in your customized box are endless! Contact us today for an out-of-the-box solution. LET'S BRAINSTORM SOME IDEAS!
Direct Mail Appeals
As we continue to navigate the coronavirus pandemic and seek out relevant marketing campaigns, one that should not be overlooked is direct mail appeals.
Keep your organization top-of-the-mind. Economic uncertainty and a shortage of conventional fund raising opportunities increases the need to create meaningful connections with your donors.
Cirrus specializes in non-profit mailing appeals and has the insight and expertise to help you craft a compelling piece. Stands out and generate donations - even in these uncertain times.
Check out our short video for tips on how to get the most from your next direct mail campaign in 5 easy steps!
Share: