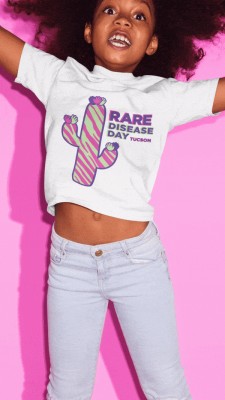 News
•
updated: Feb 28, 2020
Rare Disease Day Tucson
One of the latest recipients of our Cirrus Giving Program was the MECP2 Duplication Foundation. Cirrus provided complimentary posters to help the organization spread the word about Rare Disease Day Tucson. Cirrus also designed the unique and iconic Rare Disease Day shirts to help drive awareness on this special day.
Show someone rare that you care and join patients, families, caregivers and all rare disease stakeholders on February 29th, 2020 from 10am-2pm at the Tucson Children's Museum. This is a fun, free, family-friendly event.
Cirrus designs and produces point-of-purchase displays, retail packaging and in-store signage to help your brand stand out.
Our Tucson graphic design geniuses were tasked with creating a perfect design for Borderlands Brewing Company for their newest IPA brew, Las Hermanas (the sisters) .
The design for the cans is as unique as the story behind it, as Las Hermanas was brewed in collaboration by female brewers on both sides of the U.S.-Mexico border.
Ever wonder how to create a perfect print file? Checkout how easy it is.
Share: