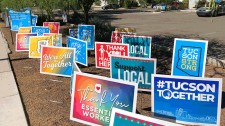 News
•
updated: Jun 22, 2020
As our community comes together and transitions into a new normal, you might find yourself faced with new communication challenges. Here's how Cirrus is utilizing our own graphic design and printing solutions to solve these challenges, spread gratitude and let our clients know we're open and ready to assist. The banner says it all, we're in this together - how can we help you?
Cirrus Gratitude Garden - Cirrus Visual is covered with yard signs expressing messages of gratitude, strength and hope! Stop by our Gratitude Garden (our gift to Tucson), for a free sign and help fill our community with messages of appreciation! Take a picture of your sign and tag Cirrus Visual so we can flood social media with these positive messages.
A-Frame Signs - Use an A-Frame Sign to direct incoming traffic or place in front of your office and let potential customers know you're open. These can be placed indoors or outdoors to help guide parking, students, patients, personnel, or for checking in.
Banner Stands - Our retractable banner stands are attention-grabbing and a great tool to communicate point-of-entry safety guidelines. They're effective for use as directional signage as well.
Share: